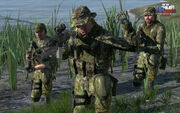 Army of the Czech Republic is a brand new addon for ARMA 2 it come's with two new maps Bystrica and Bukovina also it come's with new weapons all of them are Czech some old and new ones new one's like CZ 805 BREN old one's like UK-59 and new vehicles and new campaign bad thing is it a addon for ARMA 2:Combined Operations.
Ad blocker interference detected!
Wikia is a free-to-use site that makes money from advertising. We have a modified experience for viewers using ad blockers

Wikia is not accessible if you've made further modifications. Remove the custom ad blocker rule(s) and the page will load as expected.