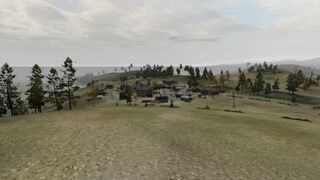 Strelka is one of two major towns on
Utes Island
, the other being
Kamenyy
. It is located at the western end of Utes, at grid coordinates X042-044 Y018-019.
Among the town's structures are 12 houses, a ruined church, a wooden jetty, a lighthouse atop Hill 46, a schoolhouse and warehouse.
Ad blocker interference detected!
Wikia is a free-to-use site that makes money from advertising. We have a modified experience for viewers using ad blockers

Wikia is not accessible if you've made further modifications. Remove the custom ad blocker rule(s) and the page will load as expected.